The 30-15 IFT is an incremental, intermittent running test designed to improve run-based high-intensity training prescription. In comparison with continuous and/or linear tests, using the final speed reached at the end of the test (VIFT) allows for lower inter-individual differences in the acute cardiorespiratory responses during HIT – in other terms, the responses are more homogenous when using VIFT. This is related to the fact that VIFT is a compound measure of maximal aerobic power, anaerobic speed reserve, inter-effort recovery and change of direction abilities, which are all taxed during HIT in team and racquet sports (Buchheit 2005, 2008).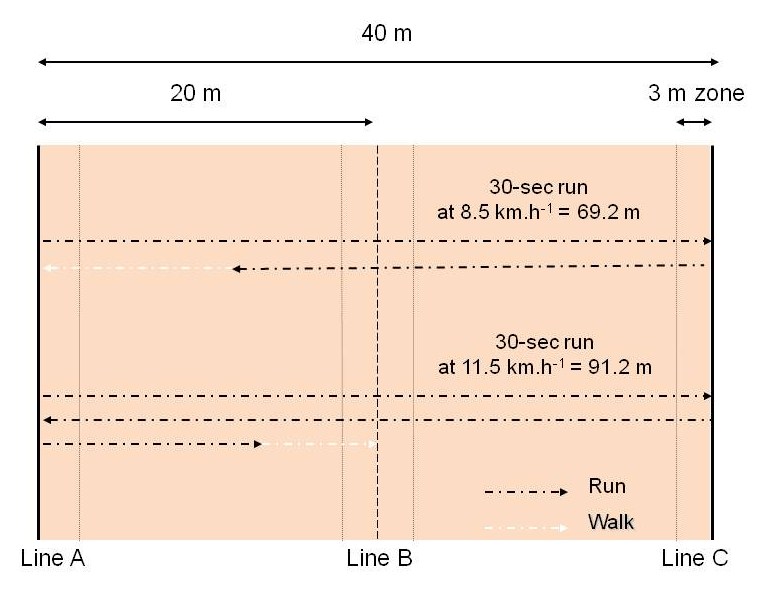 The 30-15IFT was 'born' in July 2000.
Today, handball teams in France are the prime users (all categories, levels, males and females). Nevertheless, as early as 2003, its wide use and acceptance as a popular test has evolved more and more in many other sports, including basketball (Strasbourg Pro A, Federal center in the INSEP, Men French National Team in 2006), football (Lille, National Centre in Clairefontaine and many other clubs in all divisions), rugby (Top 14), badminton (INSEP), tennis (INSEP, ex-team Lagardère), judo (French training center in Strasbourg), futsal… In other countries, many teams at the highest levels are also using the test today such as in football (UK, Italy, Germany, Belgium, Qatar, Canada, USA, Australia), basketball (USA, Thailand), handball (Germany, Belgium, Greece, Tunisia, Qatar, Croatia, Romania, Poland), rugby (Australia, UK, Ireland), AFL (Australia), netball (Australia, New Zealand), Field Hockey (England National teams, men and women).The above mentioned sports/teams are only those whom I have been recently in contact with, please forgive me if I have missed someone, as the list is possibly quite large now.
In parallel, the use of the test has also become more popular within schools because of its intermittent nature, which makes the test more 'physiologically appropriate' for children and adolescents and less painful for the untrained population.
Finally, the test is also presented in several S&C courses in France and around the world, and is cited on several web pages, which is likely reflecting the interest that practitioners have for the 30-15IFT.